AFTER HOURS EMERGENCIES
If high water levels are impacting you or your property, please submit a service request so that the appropriate staff receive the request immediately and there is a record of the request being made and action taken. If it is an after hours emergency where your home is at immediate risk, call (204) 904-9286. Please always call 911 if you are in a life threatening situation.
---
Posted: March 30, 2023
Preparations continue for the upcoming spring thaw. The RM's Emergency Response Team held their latest meeting on March 30, 2023 to review all action plans for any possible overland or river flooding. Interlake Drone Services will be doing flyovers of the ice movement along the river when it comes into the Selkirk area. Photos and videos will then be posted to our Flood Information Webpage and YouTube Channel along with daily updates.
All the main drains have now been cleaned and steamers are ready to go. Once the melt begins, any frozen culverts will be steamed by public works staff as deemed necessary.
There will be empty sandbags and sand (sand/salt mixture) available at our Public Works Shop in Clandeboye as well as the South Fire Hall (5610 Highway #9).
The RM does not look after the ditches or blocked culverts along any provincial road or highway. You can contact the Highways Dept. (MTI) at 204-346-6266.
---
Posted: March 22, 2023
The RM's emergency response team continues to meet regularly and is working closely with EMO (Manitoba Emergency Measures Organization) and the Province in flood preparation planning. On March 21, 2023, the Province released it's March 2023 Flood Outlook report.
---
Posted: March 7, 2023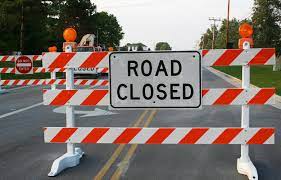 Once the spring thaw begins, there will likely be water encroaching onto some roadways and it may be necessary to close a road or erect barricades. There have been numerous occasions where individuals pass through these barricades which poses a danger to not only themselves, but others as well, including emergency responders who may have to perform a rescue. Generally local traffic would be allowed access to their homes unless the situation poses an immediate danger to one's life.
The Province amended The Highway Traffic Act (c.c.s.m. cH60) in recent months, which gives peace officers, fire fighters and other designated personnel the authority to close a roadway due to unsafe road conditions, road works and other emergency situations. Driving on a closed roadway or around erected barricades is an offence and you could be liable to a fine.
We encourage the public to familiarize themselves with Sections 76.1(1) to 76.2(3) of The Act.
---
Posted: March 1, 2023
The Province issued its first spring flood outlook on February 28, 2023. You can view the notice here.

Province's Flood Outlook Information
To view the Province's latest flood outlook information and news releases, please click on the following link:
To view the Government of Canada's Real-Time Hydrometic Data Graph for Breezy Point, please click on the following link:
---

February 16, 2023
MANITOBA GOVERNMENT ANNOUNCES
ICE-JAM MITIGATION SCHEDULED ON RED RIVER
- - -
Program Provides Continued Vigilance,
Preparedness in Strategic Planning: Piwniuk
The Manitoba government's yearly ice-cutting program will begin next week on the Red River to reduce the potential impacts for ice-jam flooding, Manitoba Transportation and Infrastructure Minister Doyle Piwniuk announced today.
"Our government is remaining vigilant by implementing the ice-jam mitigation program in order to protect Manitobans in the chance of flooding due to ice jamming," said Piwniuk. "As part of the mitigation strategy, the Manitoba government is committed to further advancing preparedness solutions including ice-cutting operations in the province."
The ice-jam mitigation program, which consists of cutting and breaking river ice, was launched in 2006 to reduce the risk of flooding caused by ice jams on the lower Red River and several other rivers. Ice jams form when floating ice is blocked from moving downstream, forcing water to back up and overflow riverbanks.
Remote controlled ice-cutting units and three Amphibex icebreakers are used each year to cut and break approximately 28 kilometres of ice on the Red River from Selkirk to Netley Marsh for an approximate width of 100 metres. Ice-cutting and breaking operations are also often undertaken on the Icelandic River at Riverton and at the outlet of the Portage Diversion.
Currently, ice-cutting operations are also planned on the Icelandic River in mid to late March, but are not expected to be required at the Portage Diversion. Conditions in the Assiniboine River basin will continue to be monitored to determine whether icebreaking activities at the Portage Diversion become warranted.
Notices have been posted in areas where ice-cutting machines will be working. River users are advised as a safety reminder to stay off ice where notices are posted or where evidence of recent ice cutting is apparent. Ice fishers are also reminded to remove huts or other materials in areas covered by the ice-jam mitigation program.
The icebreaking and ice-cutting equipment is operated and maintained by Winnipeg Environmental Remediations Inc., a Manitoba company that provides comprehensive environmental services, general contracting and civil earthworks.
---
Posted: January 20, 2023
The Province will be releasing it's first spring flood forecast in the upcoming weeks. Preparations are underway by the municipality for the upcoming thaw. All main drains will be cleaned first so that ditches are able to drain once the melt begins and any frozen culverts will be steamed by public works staff as deemed necessary.
If you do experience water problems, please submit a service request so it gets into our tracking system. These requests get submitted immediately to our Public Works staff via email and it makes it easier for them to prioritize the submissions based on risk levels. If using your phone to submit a service request, you must download our App first and do it through the App. A service request cannot be submitted on the phone without the App.
Please note that the RM does not look after the ditches or blocked culverts along any provincial road or highway. You can contact the Highways Dept. at 204-346-6266.
We will continue to update this section as spring approaches as more information and updates become available.
What you need to do if your property is at risk this spring?
Monitor the spring melt and watch for anything abnormal in your area and protect your home and property as necessary; empty sandbags and sand will be available
Know the notification/warning systems the RM uses:

Municipal website (www.rmofstandrews.com)
Media (Selkirk Record)
CONNECT Notification System (Text/Email/Phone Call - only if you have registered; if you haven't registered, sign up now here: Register for CONNECT

Protect your pets and livestock
Take special precautions to safeguard electrical, natural gas or propane heating equipment. This may include turning off electricity to the affected areas of your home
Move furniture, electrical appliances, valuables and personal belongings to floors above ground level
Contact your insurer to make sure you are covered for flood insurance if your property is at risk
The RM is not responsible for individual property protection, does not deliver sandbags and will not provide staff to install them
Protect all openings, holding tanks, drinking water supply and septic fields that may be at risk
There are some great fact sheets and resources of information on our Flood Fact Sheets page that can provide guidance and assistance in preparing for possible flooding situations.
---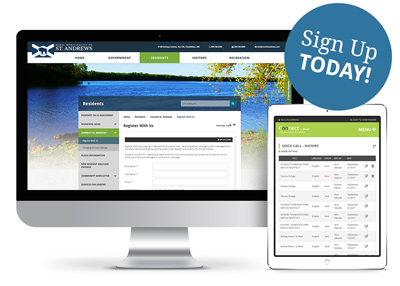 CONNECT With St. Andrews
Register with CONNECT, our communication system that allows us to contact you quickly in a way that works for you…by voice message, on your land line telephone, by text or voice message on your cell phone or by e-mail. Stay informed of all the latest news, upcoming events, emergency alert messages and more.
During an emergency or flood situation, we are able to map out specific areas and send important notifications to those registered individuals in the specified area immediately. It is a very useful and important tool for us to communicate with you so please register today!